Since I am convinced I can do anything I set my mind to, I decided to make a miniature test tube house (inspired by the wonderful work of Rosa de Jong. Since I never made miniatures from scrap before I had to figure out how to go about this. I looked up some websites for material advice but most things I had to figure out myself.
Materials
First of, materials. Rosa used cardboard and wood but does not really explain which grain or types to use so I just bought a few sheets of variable thickness. Enough to build an entire city, considering the scale I was working on.
Next, which type of glue and paint. I already knew about certain paints and glues that will bite each other and are not necessarily suitable for every material. I decided on the tried and true method of trial and error and bought pretty much every type of glue known to mankind. For the paints I went for a basic acrylic set and the more known model makers paint, Humbrol.
And at last, add-ons or stuff that can look like plants and items and stones and other stuff.. So I went to a hobby store and bought bags of fake grass, leaves, trees, stones, etc. Just picking things I figured I could make use of. Also bought a few model kits to kitbash.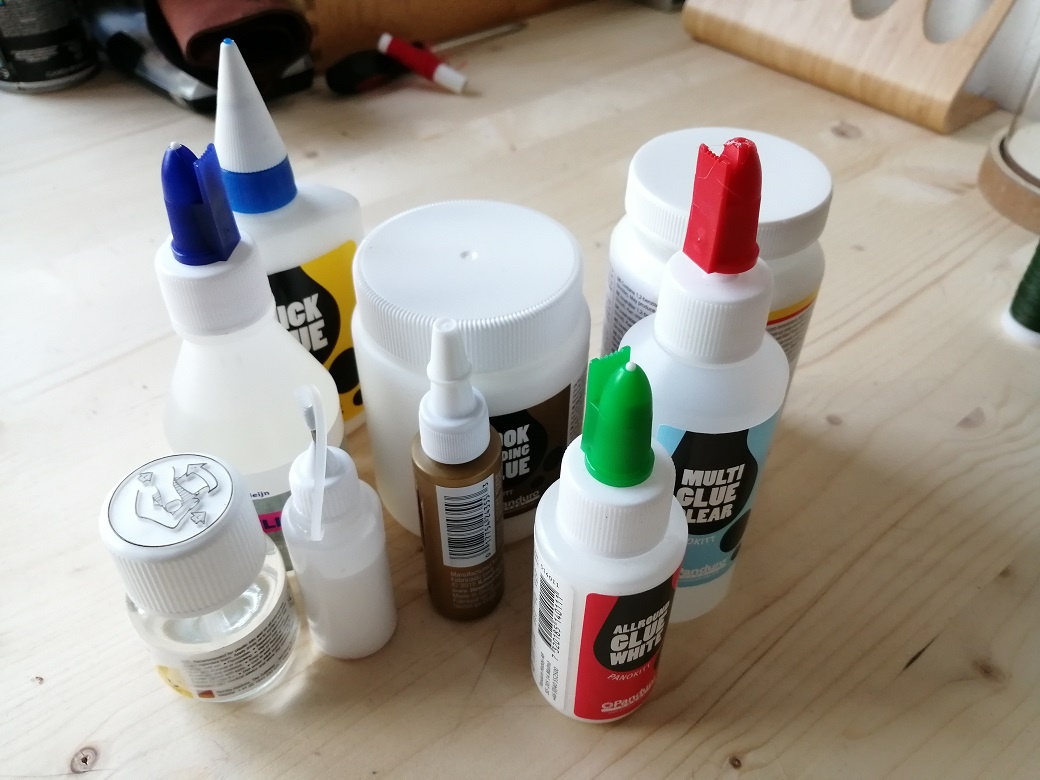 Lots of glue
Tools
Further tools that I used are:
Really, really sharp knives that you can perform surgery with
Cutting mat
Steel ruler
Triangle Ruler
Compass
Tweezers
Magnifying glasses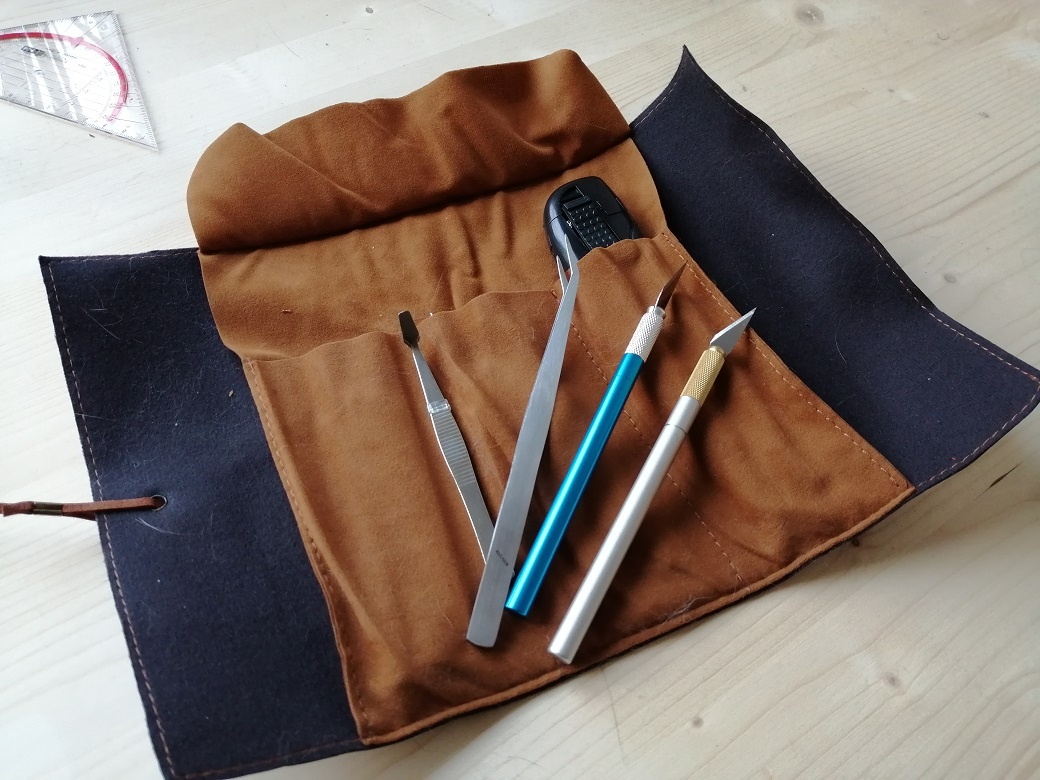 My first amputation set
First attempt
This was mostly for testing how the cardboard would hold, means of glueing and attaching, see how small I could go, how the paint would interact with the materials and glues, etc. The end result was not perfect but convinced me of my capabilities to do this. And this was the moment to learn so I did not care about mistakes. And it taught me this:
1: The most practical glue to use is bookbinders glue, advised to me by the salesgirl at Pipoos. Others dry too fast or too slow and it does not get stringy. And I Macgyvered a different dispenser for smaller amounts of glue to be released.
2: Cardboard is made of layers so there is a limit to how small you can cut things before it becomes structurally unsound and falls apart.
3: Think ahead for the best result. Imagine the end product so you can cut your pieces with the right holes and corners because adding things later, while possible, does not look that good.
4: Measure, measure and measure again. Get your dimensions right and be precise about them. The slightest deviation has great consequences.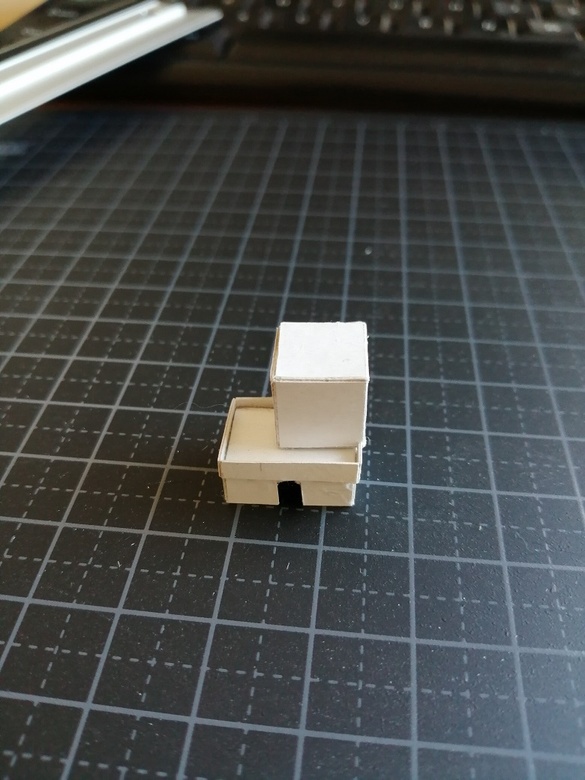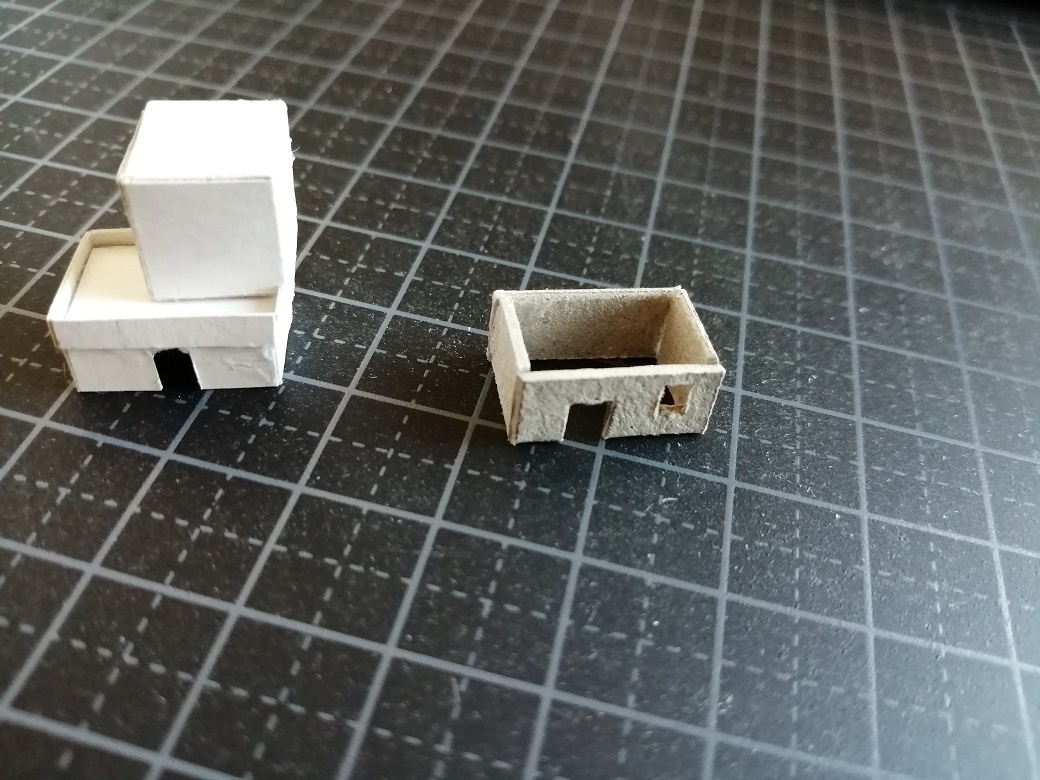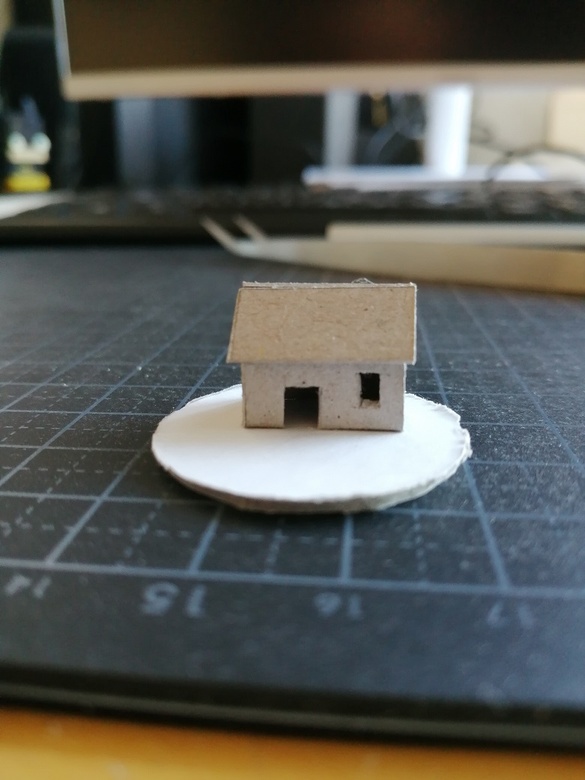 Second attempt
This was going to be the real deal. I decided to model my house on those old two story houses you might find in the country, haunted or not. Nothing too fancy. First I started with the main walls and roof, added a floor in between for strength. Then I decided it needed more dimension and added the window sills. And finally I wanted a gravel path leading towards the house and figured a piece of fine sandpaper could create that illusion.
For painting I sprayed a primer, added base colours then a wash and finally some small highlights. And then I spruced it up with tiny bits of foliage and a happy little tree because Bob Ross was right about those.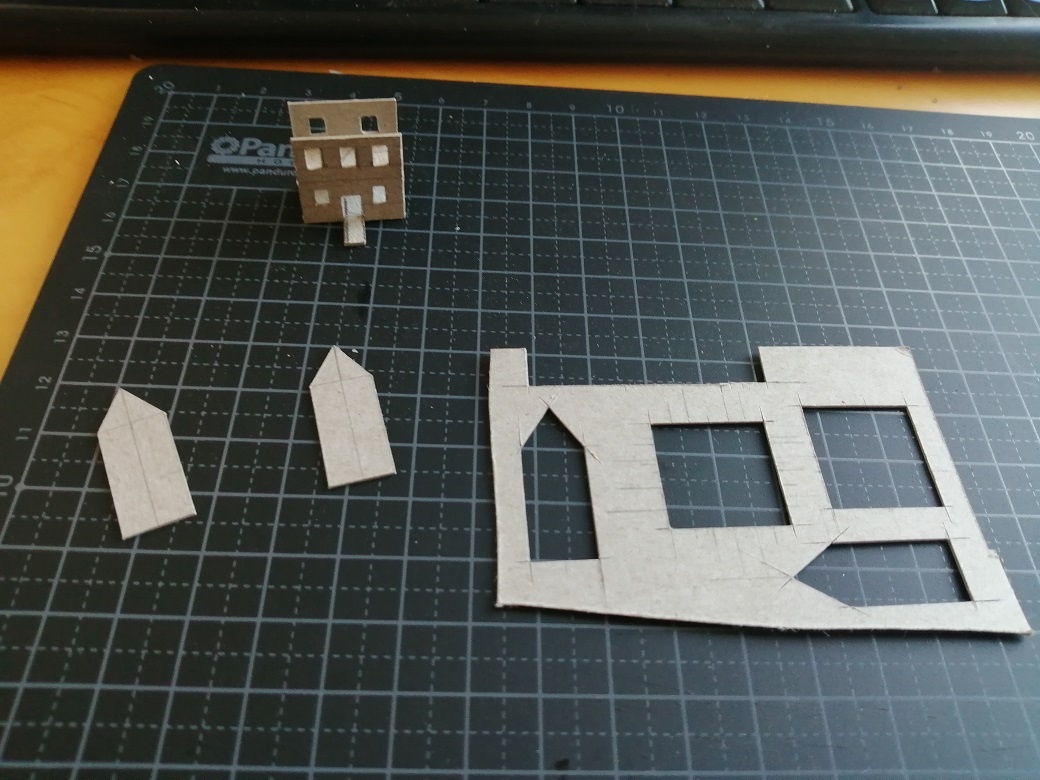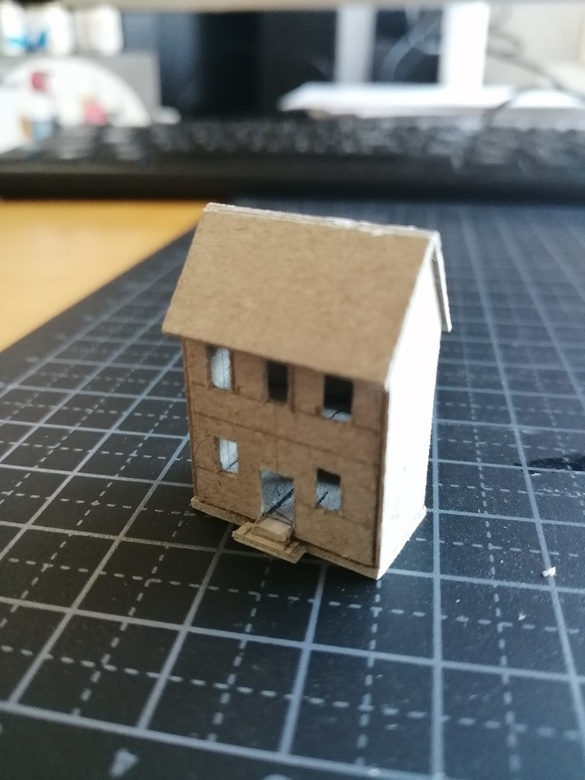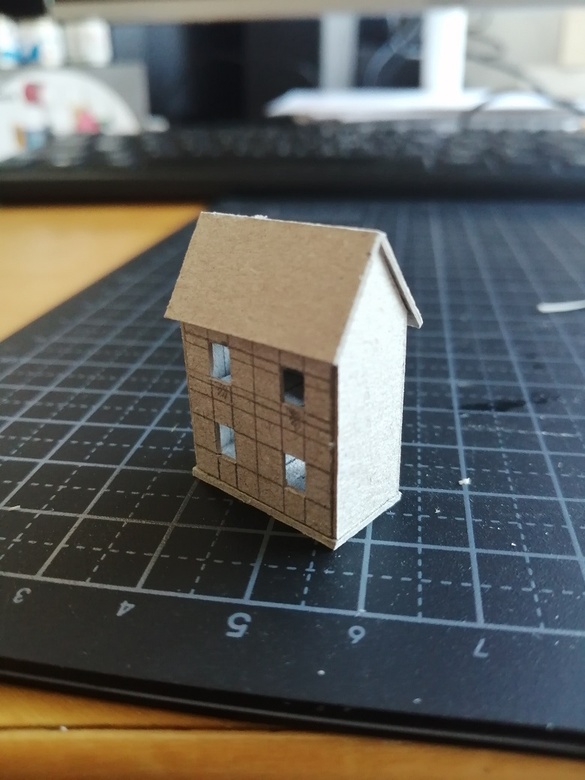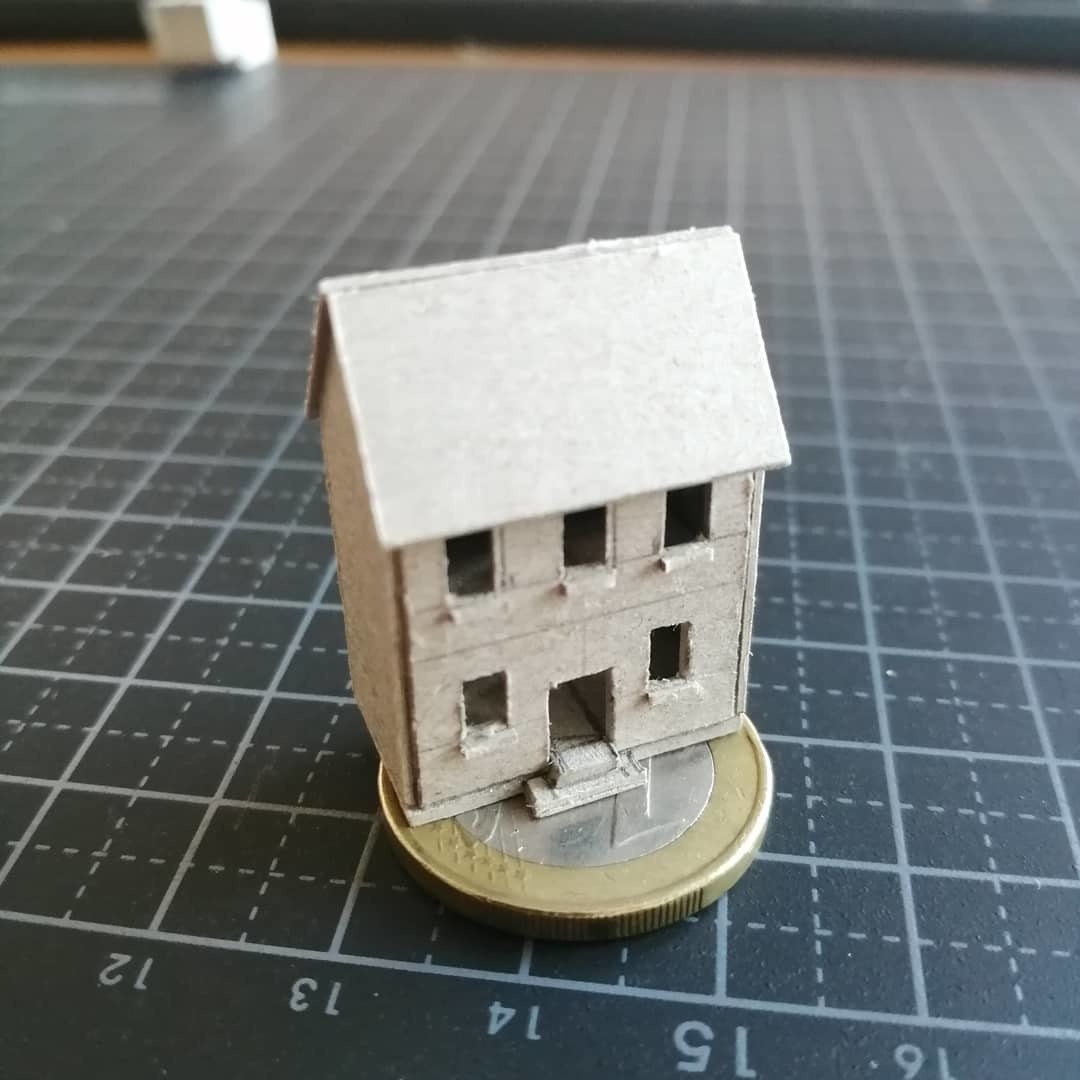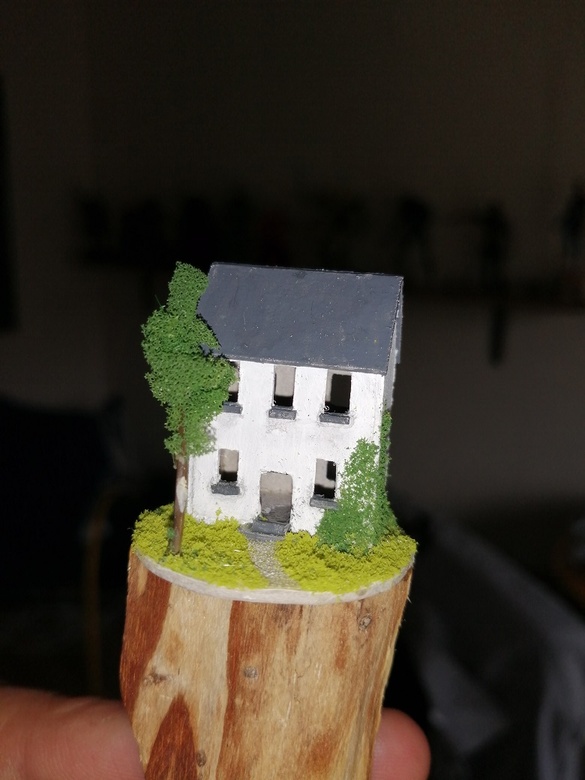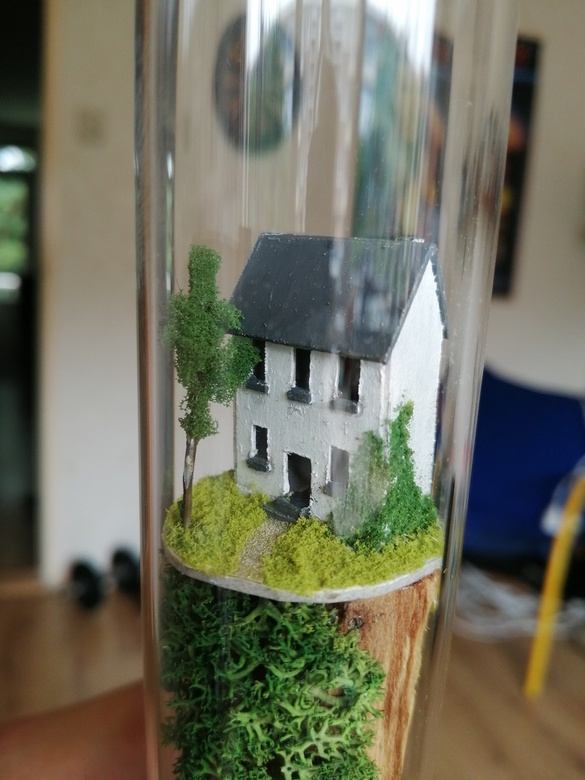 All in all I am pretty happy with the result and thinking about my next project, a Wizard Tower. Right now I am figuring out how to make a fake rock.